Tell us a bit about the 'lead up' to your decision to pursue bartending.
"I was working construction after graduating high school a few years back, mostly as a means of steady income and as something to do while figuring out a path in life. Life wasn't always very exciting in honesty. Most days melted together doing the same thing over and over and not really enjoying any of it. You get sucked into a pattern and it's hard to get out of that.
Things went on like this for longer than I intended and I eventually decided to explore post secondary education, just to do something different. I tossed a lot of different ideas around and ended up enrolling at Ryerson University, but deep down I was completely lost with what I really wanted in life.
Bartending had always been something I'd had interest in, but hadn't really had an opportunity to pursue. I'd spend spare time researching different cocktails and the history of them, frequenting different bars and watching bartenders at work and the genuine passion that they radiated. I'd always had a raw passion for the bar culture, I just had no idea where to begin."
What caused you to take 'the plunge' and dive in?
"When everything started to go haywire with Covid back in 2020, that was the final straw for me. I was doing university online and was becoming very dissatisfied with the direction things were heading, just generally not happy and not in a place I wanted to be in life. I decided to take my schooling on the road and moved down to Victoria to give Nimble a shot. I was probably three or four classes in when I made the decision to drop out of university entirely and pursue bartending full-time. It was definitely one of the best decisions I've ever made."
What was the Nimble Bar School like?
"That first day walking into Nimble Bar School was unforgettable for me. You enter into Little Jumbo and bam – you're instantly immersed in the feeling. It isn't just tips and tricks and how to mix cocktails – it's the full experience. I learned everything there. The amount of knowledge impacted on me in the course of six weeks still blows my mind. Everything from the history of cocktails, to flair techniques, to upselling, to dealing with difficult situations at work, all while being surrounded by talented, creative, like-minded people, it's an experience that stays with you."
Did anything about the training surprise you?
"What surprised me most about the training was something I really didn't realize until after I started working as a bartender. Situations that should have been daunting, especially for someone who had never worked a shift in the industry before, were like second nature for me. Nimble instilled this overarching confidence, this backbone of knowledge that allowed me to jump into the industry head first without being afraid.
Still, every day I walk into work and find myself resorting to the things I learned on the very first day of Nimble. It's that lasting confidence that sticks with you, even when you don't realize it. That's what surprised me the most, just how much ingrained confidence Nimble gives you behind the bar."
What's your favourite takeaway / skill / fun anecdote from the program OR your life as a bartender?
"I think for me, my favorite takeaway from Nimble Bar School and from working as a bartender go hand-in-hand. All the teachings in Nimble added up to one lasting experience. Working as a bartender is the exact same, putting all these smaller pieces together in order to deliver an authentic, lasting experience for someone. Piecing together cocktails, drink knowledge, soft skills, confidence, all in order to deliver the best possible experience to a guest, that's what Nimble did for me, and what I now strive to do for guests in return."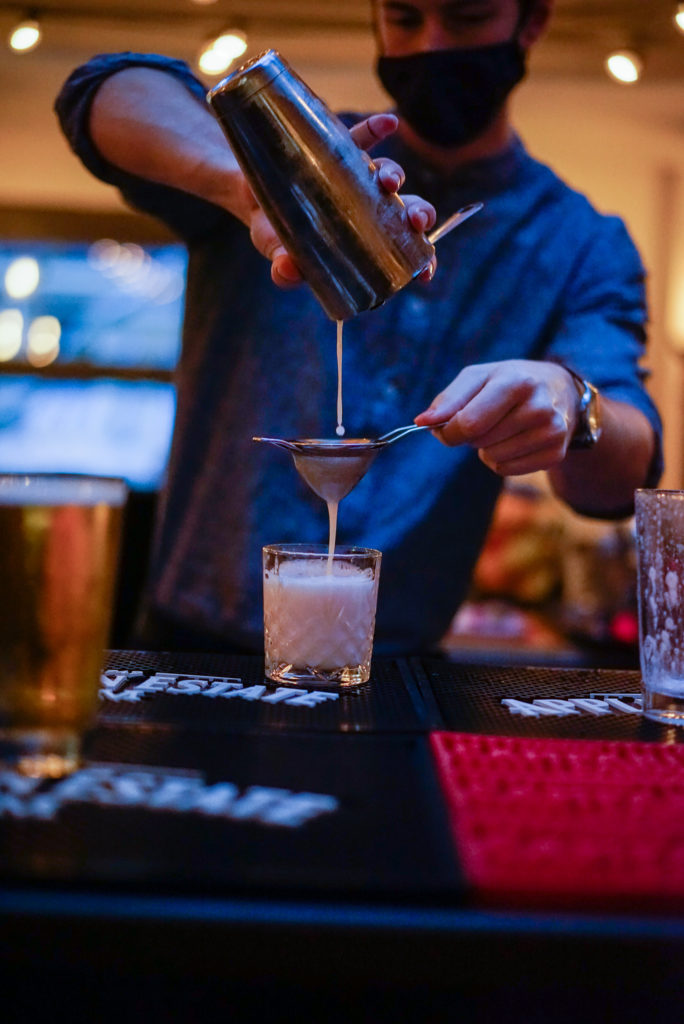 Tell us a bit about your day-to-day / lifestyle
"Typically, I work as a closing bartender, which provides me with the best of both worlds. I have the day to myself, to live and explore and learn and be active. Being focused on your time off both physically and mentally are definitely important. Getting ready for work starts somewhere around five o'clock, that's when the real fun begins. I walk in the doors and instantly it's on, the music is going and the lights are low and I'm transported into it all. Being behind the bar and functioning at a high level is a great thrill. There might be a ten second window when I can pause and look around the room and see all these smiling, laughing faces enjoying their drinks, having a really great time and I'm there having a great time with them, that has to be about the most satisfying feeling out there."
Has there been an impact on your finances?
"The financial benefit from bartending has been massive. Being able to essentially set your wage based on the amount of effort you put in is greatly rewarding, it makes you want to give your absolute best at every second. Ultimately though, the monetary compensation really does come secondary to the gratification. Being able to pay the bills is huge, and bartending is an excellent way to do it, but working hard to serve a guest and seeing that they left you a huge tip, the first thought is always, wow, these people really had a great time tonight, and I had something to do with that. That's the ultimate reward, that's what it's really all about."
What tasty cocktail did you whip up today?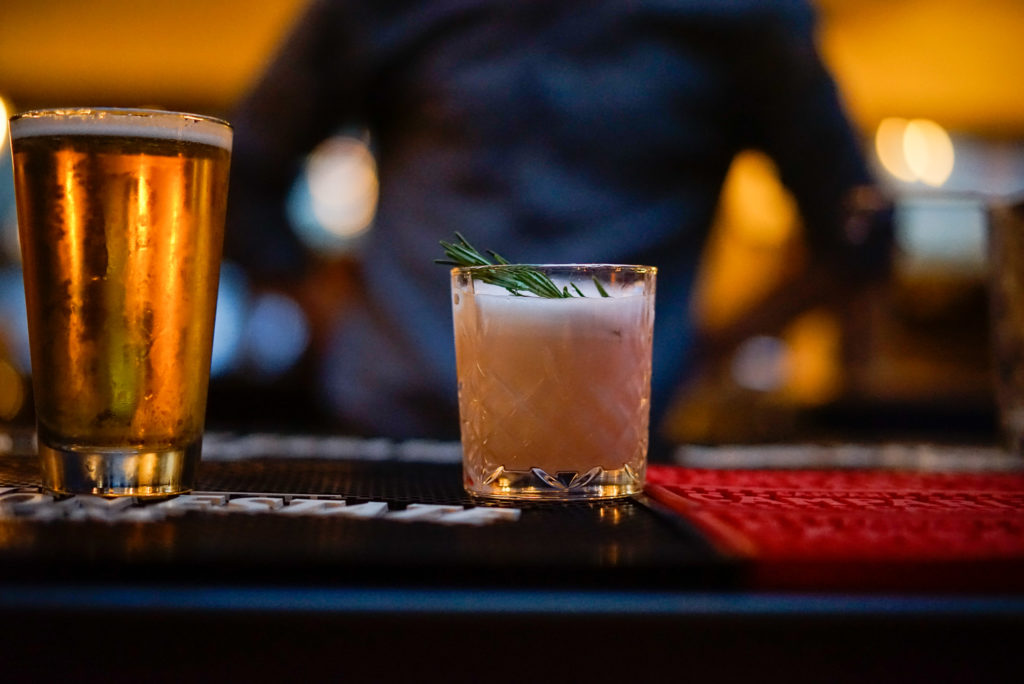 This is the Rose of Sheringham:
2oz Sheringham Rhubarb Gin
1.5oz Fresh lemon juice
1oz Rosemary syrup
1oz Egg whites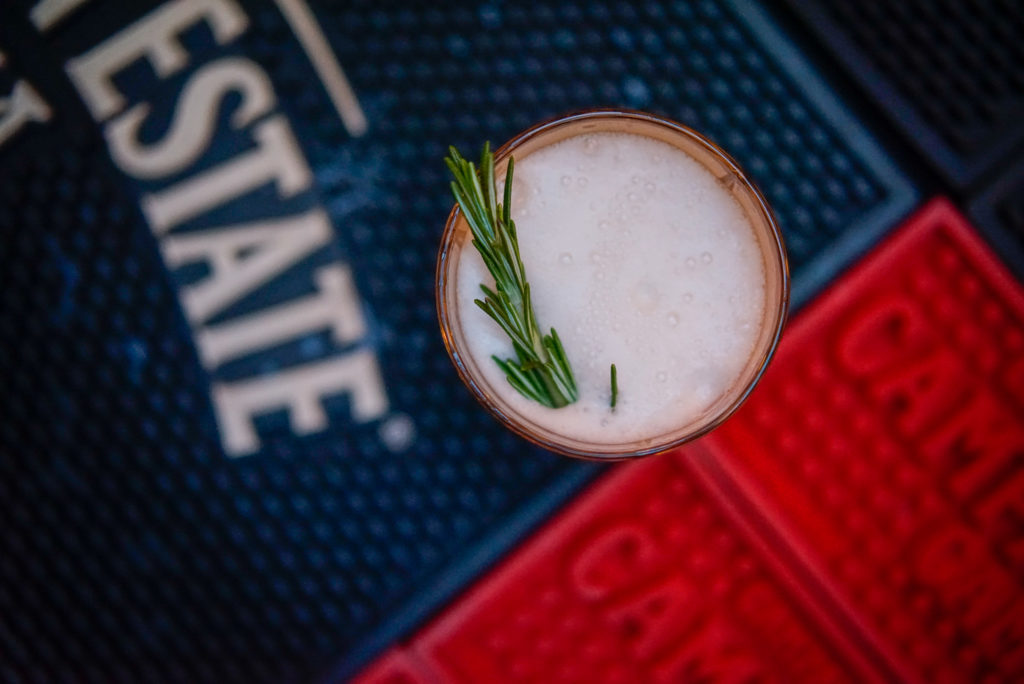 Where To Find Jack
At the time of this case study's publication, you can find Jack at 10 Acres in downtown Victoria.
If you enjoyed this, join 3000+ bartenders in our Boomerang community and receive content like this to your inbox every two weeks!