Want to make this bartending thing really work?
Join Canada's only premiere bartender training and certification program.
You'll learn world-class techniques, the art of unforgettable drinks, how to create "theater" at your bar…and most importantly, how to go from "just another bartender" to "irreplaceable."
Our proven hands-on curriculum—delivered by industry experts—gives you the skills and knowledge to be successful in this competitive industry.
Space is limited. Apply to the Nimble Bartending School today. Courses available in Victoria, BC and London, ON.
A Bartending School for Those Who Want to Grow
Get the tools, training, and guidance to join a new generation of high-performance bartenders
The Perfect Training For...
Bar Managers
Bar Managers will learn how to empower their team and build bartenders from the ground-up
Bar Owners
Bar owners will learn what's possible through high-performance bartending. Learn how your bar team can be more streamlined, efficient, creative, and happy.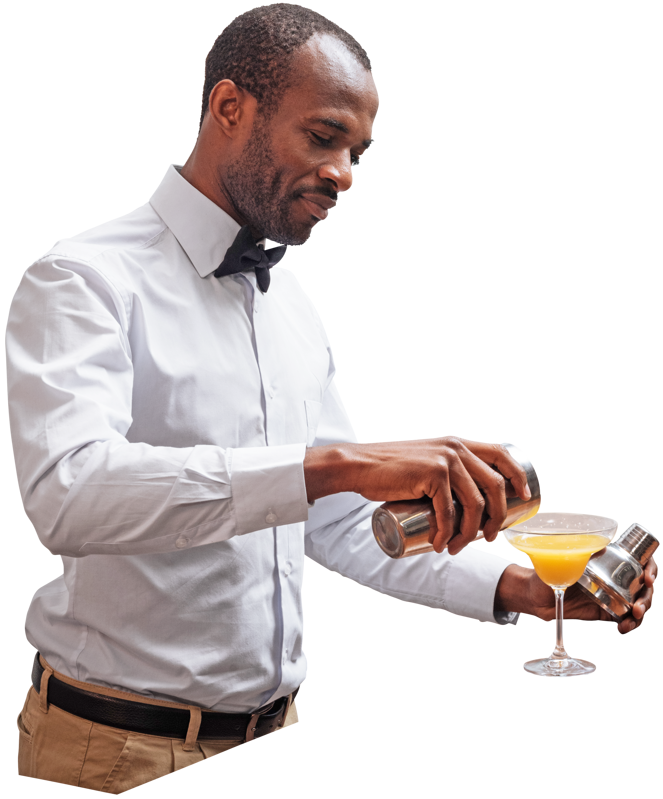 Bartenders
Bartenders will cultivate a high-performance skillset that will help them become the most valuable bartender at their establishments.
Those Looking to Transition or Add an Income Stream
Bartending is a powerful life skill that is recession-proof and travels well. People from all walks of life can benefit from developing this skill for fun and profit.
A proven program to help you become the most valuable bartender in the room, create world-class guest experiences, increase profitability, and gain an edge over your competition.
A Training Methodology That Works
The Nimble Bartending School distills decades of experience into a course that will shorten your learning curve, save you time, and money. You'll get the strategic insight and guidance to help you reach your goals.
"What I learned is that bartending has helped me value my time more, and now I don't have to work doubles anymore. It's changed my life."
The course was better than what I had expected. It's difficult to pinpoint specific areas that blew me away, but across the board I felt it was more valuable than I had predicted. There are so many self-proclaimed "professional" bartenders out there who are doing it all wrong. Learning best practices in person from Nate and Kyle has given me a ton of confidence, and solid edge over my competition.
This is an antidote to the classic bar school stigma. Courses are comprehensive, fun, and challenging with homework and fieldwork designed to help round out your skills and knowledge. Both Kyle and Nate have an incredible skill sets and a wealth of knowledge which they are enthusiastic to share with everyone. Would highly recommend to anyone who is interested from a complete beginner to current bartender.
Much, much more professional and comprehensive than I had expected, from the bar skills to the liquor knowledge and palate development. Quite hard (in a good way). In many ways as challenging as any university course. Very impressed.
Highly recommend this school to friends and family! Outstanding instructors!! Very helpful course. The instructors come prepared with lots of helpful cocktail knowledge, and answer questions with patience. They bring many helpful guest speakers for the students, and extend their knowledge about beer, wine and spirits. They encourage students to work on many different styles of cocktails and help them create their own. Overall, it was a great experience!
I've been a server for over 10 years with both extensive management and serving experience. I took the Nimble Bar School to raise my confidence and my ability to have more fun with guests and help them have a better drinking experience (and raise bill averages). The Nimble Bar School helped me to quickly develop a concrete base to succeed and perform as a badass bartender in the new age cocktail culture.
First off, they really did earn this five stars. Taking this course was easily the highlight of my summer. Kyle and Nathan are very knowledgeable and energetic instructors, and so learning in their "classroom" was both fun and engaging. As someone with no bartending or service experience, I was a minority during this course. This lack of experience was in no way an hindrance, as Kyle and Nathan were able to guide me along without slowing the pace of instruction. This course helped me to develop the skills needed to rock my home bar with confidence.
"Being in this environment of high quality and high performance, I truly realized the potential and where it could take you. You can move quick."
Course Dates and Locations
Choose the date and location that's best for you when you apply.
Jan 13 – Feb 18, 2024 | Victoria Weekend Course | Saturdays & Sundays | 12:30 PM – 2:00 PM
Feb 24 – Mar 31, 2024 | Victoria Weekend Course | Saturdays & Sundays | 12:30 PM – 2:00 PM
Want the Nimble Bartending School to come to you? Contact Us.
Upon acceptance of your application, we require a $97.00 non-refundable deposit to secure your spot in the program.
High-Performance
Financing Available
Full Hands-on Nimble Bartending School Course

The Nimble Proprietary Cocktail Guide

Nimble High-Performance Bartender Certification (Optional + Subject to Successful Completion)
High-Performance + Curated Toolkit
Financing Available
Full Hands-on Nimble Bartending School Course

The Nimble Proprietary Cocktail Guide

Nimble High-Performance Bartender Certification (Optional + Subject to Successful Completition)

Nimble Curated Kit of Professional Bar Tools
Take the first step. Apply Now.