One of the things we love most about bartending is that it can change someone's life pretty fast — from a significant bump in income to suddenly meeting tons of new people.
We caught up with Nimble Bar School alumnus Harry Tham to hear about his bartending journey.
Here's what he had to say:
Why bartending? "Story. Engagement. Passion."
I probably have the most random story on how and why I started bartending. First, it all started watching an international barista competition.
The competitor had a well-thought out thesis that made me realize there's a lot more to this than I thought. It's a real craft.
They told a story that was engaging and passionate — it really caught my attention. That's when I started to get hooked.
I thought being a barista would be fun to try, but then I came across bartending. I had no idea what it was besides the things we see on television.
I looked up classes because I knew there were schools until I found Nimble Bar Co.
One quick email and I was registered. The next thing I knew I was staring at Nate and Kyle (Co-Founders and instructors) on the first day of class.
Several weeks of flaring, learning, and practicing, and then it was time for the certification process.
I failed my first attempt at the certification process, but The Nimble Bar Co allows you to retake it. So I continued practicing and finally completed the course on my second attempt.
What I love about bartending day-to-day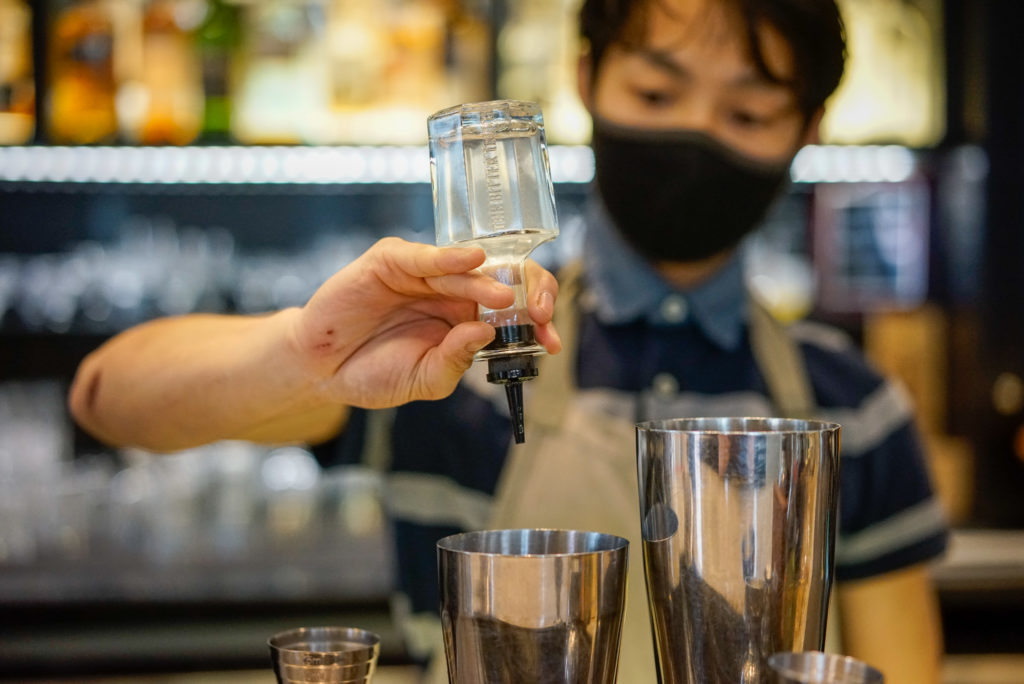 Bartending for me is the guest interaction, the physical and mental skill behind the bar, and presenting yourself as a brand. Being able to build both my own brand and the brand of my bar every single time I show up to work is alluring.
I love how each day is different and progressive. I enjoy how the skills we learn and continuously improve are transferable to many other facets of life.
For me, it's also the simple things about bartending that I love: the atmosphere, hum of guest chatter, and the rhythmic sound of ice in cocktail shaker tins.
Where were you at when you came to the Nimble Bar School?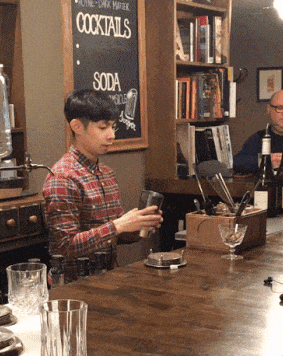 Before Nimble, I was a student about to start the Hospitality Management Program at Camosun College. The program also had a bartending course, but sometimes I wonder if I would still be as passionate about bartending if my introduction had been at Camosun rather than Nimble Bar Co. (I think my profession would have been something else, to be honest).
I also had a serving job working at many locations for Poontra (Owner of Little Thai Place, Fudo and other establishments).
Did the program work for you?
For someone who had no knowledge or palate of beer, wine and spirits — YES!
The Nimble Bar Co gave me that opportunity and much more!
The only thing that was challenging was finding a job with the certificate but no experience behind the bar. The ideal for me was to start as a support role and move up.
However, I was stubborn and very eager to start as a bartender. I had lots of rejects until Poets Cove hired me. For them and myself, it was the best thing ever. I managed to sell their unwanted spirits and network with so many people.
Where are you today?
Today I am a bartender at The Courtney Room in Victoria, British Columbia. I have been bartending there since September 8th, 2020. I also moved out to live with another Bartender legend Mike Norbury. I am also attending online competitions for more experience.
How has your income been impacted?
My income has been better than before. During the pandemic, I am comfortable living in the Downtown Victoria area and am even saving money.
What's been your greatest insight from your experience bartending / in the industry?
Everything. As bartenders, we set the Service-scape of the organization. Interaction, Ambience, and Quality — whether it's personality, drinks, or otherwise.
If you're in Victoria, be sure to visit Harry at The Courtenay Room.